Greece lies at the meeting point of Asia, Africa and Europe.
Inhabitants: c.11 million, probably more. 4 or 5 million are living in the capital area, Athens.
Greeks of the diaspora are estimated to some millions.

Coming to Greece?
Best month to come is June or September: July and August can be too hot for you (occasional heat waves), and islands are packed (all 4 million Athenians spend their summer vacation there in August).
Most greeks understand a bit of english, all you need in greek is: efkharee`sto (= thanks, I thank) ♪

[efxariˈsto]

(1) and paraka`lo (='your welcome'♪ -answering to 'thank you'- or ='please? excuse me?'♪ -when you want to ask a question- ), if you wish to make the natives happy. (see LANGUAGE SECTION).


...let's go to Athens


...visit the Acropolis with me


...and athens museums


...let's go to places outside athens


fast reference: WIKIPEDIA, CULTURE.GR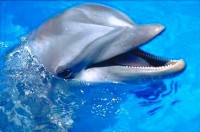 ENLARGE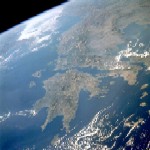 www.greeklandscapes.com
www.visibleearth.nasa.gov





[efxariˈsto]

♪



[parakaˈlo]

♪



location of greece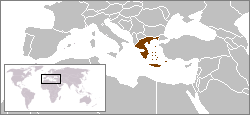 wikipedia: Greece