greek alphabet in ancient times
---
This page is an appendix to SHORT HISTORY OF GREEK.
Links on greek alphabet history



ANCIENT GREEK ALPHABETICAL SCRIPT


Shapes of phoenician letters were changed by the greeks, more letters were developed. The greek alphabet is born: 8th century a.e.v. The earliest inscriptions are of c.725 a.e.v. (Also see the Dreros inscription in Crete). Today, we still use the northsemitic letter names -slightly changed- (alpha from 'aleph, beta from bet, etc.), although we are not aware of their original semitic meaning.
Writing direction: right to left, or boustrophedon, or left to right. This last one prevails. There were only capital letters, no diacritic marks, no spaces in ancient greek. Letters were easy to curve on marble when their lines were rather straight. It would look something like this:



The ancient capital letter symbols are the ones we still use today in greek. (small letters were designed in hellenistic times).
Take a closer look to an EPIGRAPHE (inscription)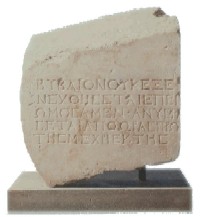 ANCIENT GREEK ALPHABET TYPES
Here is a CHART OF ANCIENT GREEK ALPHABETS by CITY
CLICK TO VIEW THE CHART (422KB, 1369X1300)



Alphabets and the styles of 'typeface' in ancient Greece appeared in many versions. Every city-state had its version. They were grouped by philologists in two main groups: the so-called eastern and western. The east-west orientation is not literal because each city mothered many colonies scattered all over the Mediterranean sea (the colony usually followed the metropolis' alphabet type).

1. Eastern (or ionic) group: Athens adopted the ionic alphabet (type of Miletus city) in 402/3 a.e.v. These were the symbols the attic writers used, which are exactly the capital letters we use today in modern greek.
ITS FUTURE LIFE: It is today's greek script (capital letters). Of course, there were further innovations: see greek alphabet in hellenistic times.

2. Western group: Also called chalcidian alphabet (of the city of Chalcis at the Euboea island MAP). It travelled to colonies of Magna Graecia in southern Italy). This western type uses the shapes C (instead of the eastern Γ), R (instead or P), L (instead of Λ)...
ITS FUTURE LIFE: This alphabet was transformed by the etruscans, and then evolved into the latin (roman) alphabet. You can see it in front of you, on your keyboard.

NICE LINK: The evolution of the alphabet // Animated chart of the evolution of latin characters by Prof. R. Fradkin USA : Animated!!! transforming from hieroglyphics through phoenician, greek and etruscan to the latin alphabet (today's roman alphabet!) Make sure your window will be wide enough to include all the beautiful transition motions.

Ancient greek letters were also used as:
NUMBERS
MUSICAL NOTES: links on ancient greek music notation [[addendum: page on ancient greek notes]]
links checked in Aug 2007.