Nike and her sandal
c.410‑407 a.e.v.
Acropolis museum
---
The 'sandalizing!' (gre:'σανδαλίζουσα') Nike (gre: Νίκη) - Acropolis Museum

@wikipedia.gre (greek)
Nike at mythology @wikipedia (english)

CAPTION

Nike adjusting her sandal

Marble relief fragment from the balustrade/parapet (now destroyed) of the Temple of Athena Nike on the Acropolis, Athens.

Created during the last quarter of the 5th century a.e.v. (c.410‑407 a.e.v.)

Inv.No. 973, Acropolis Museum, Athens, Greece.

Height: 107cm (42'')


The name Nike is a feminine greek noun for eng:Victory, written in greek: <NIKH>, mod.gre.pronunc: [`nici] which sounds just like the name: Nickie.


Her movement is so realistic and wonderful.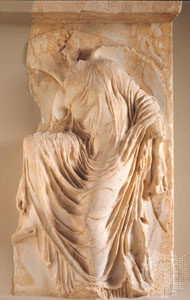 ---
PHOTO DATA

nikeSandal_acropolis_1_190x300.jpg 18kb


IMAGE SOURCE: retr.2000


USED IN